MAKE IT REAL @

RUBY SLIPPER RANCH
Real Human Experiences
"Our ways aren't rules or laws, they're ways of living as good human beings.
Rules and laws are made to be broken." David Dick – Songhees Nation
At Ruby Slipper Ranch we are experimenting with ways of living as good human beings. To us, "a good human being" is one who lives a more balanced existence. A key aspect of this is the development of a "Positive Food Culture" one "that wrings the petroleum out of our food chain" (Barbara Kingsolver, Animal, Vegetable, Miracle). Another aspect is learning how to share with our land partners, co-farmers, and community members.
We strongly believe that the world needs this ongoing wave of "back to the landers" and "permaculturalists" to maintain and develop the skills that will enable us once again be in (better) balance with our environment.
Our farm programs invite visitors to walk "the way" with us, offering experiences that are fun, practical, delicious, at times challenging, and potentially transformative.
Experience Some of "The Ways"
FARM PROGRAMS
You can go as deep as you want into authentic farm life with our farm-stay activities. We'd love to show you around, and if you're more than just curious, we offer you in-the-field learning from teachers who are living the life, every day.
Basic Farm Tour
Walk to the barn to feed the pigs, and then tour through the free-range poultry area and the permaculture-designed gardens surrounding the house. Your hosts helped create all this and are happy to answer your questions and share stories about the joys and challenges of the sustainable farming life-style.
Length: 1 hour
Rate: included in accommodation.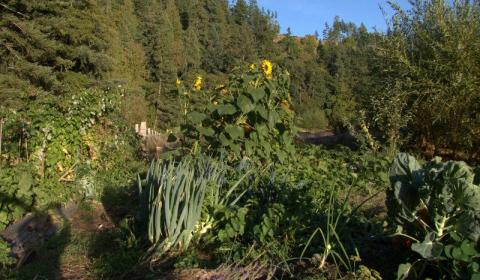 Farm Education Tours
A more in-depth interaction with your hosts, learning about permaculture design, organic gardening practices, at-home food processing (such as canning, pickling, using the solar dehydrator, smoking bacon, ham, and other meat and making beef jerky) free-range animal husbandry, slaughtering, and butchering meat. These tours will be custom designed to meet individual interests, and can range from walking discussions to hands-on participation.
Length: a couple of hours over a couple of days.
Rate:
2-hour discussion tour – CA $40 (1-2 people)
In-depth hands on learning experience – CA $60 (1-2 people)
[When selected at time of booking - host will be in contact to arrange the experience based on guest interest and seasonal activites available on the farm.]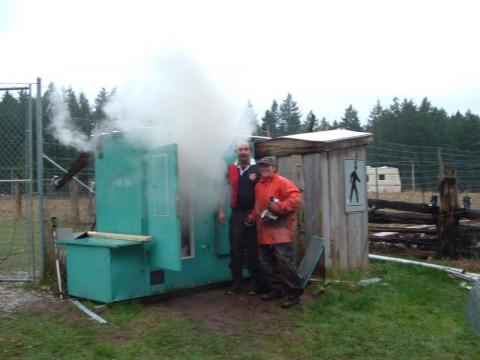 Only-from-the-farm Dinner Feasts
A: Your host will prepare a meal using only ingredients from the farm.
Rate: CA $20/person.
B: You will work with your host to prepare a feast. Start with selecting and picking vegetables and herbs from the gardens and adding to this from the extensive pantry of home preserves (tomato sauces, chutneys, pickles, home-canned meats, and more). Those interested in a more hands-on experience can opt to process a chicken or duck for their dinner (seasonal).
Rate: CA $30/person.
C: Family dinner/events can be accommodated. Seasonal pig roasts can be arranged.
Rate: Event-specific.
Become one of our farm futures regular visitors
Sign up for regular visits to the farm to learn about and invest in your food source. You can choose your own level of participation in daily farm tasks.
Rate: Specific to visitor interest