An Honest, Authentic Home
When you stay at Ruby Slipper Ranch, you're experiencing more than an adventure and some accommodation: you're an honoured guest in a very special home.
A Relaxing Space, Just for You
Your accommodation is a cozy bedroom (with double bed) on the top floor with a separate bathroom and shower, with access to a spacious music/dance/movement room that shares the upper floor. Here you can look out at the farm, read or listen to music, or use the space for your own movement practices. Single/double occupancy CA $95/night. For booking info click here.
Built With Love
From the moment you arrive, you can feel that many loving hands have shaped this place. Shayne and Tracy set out to build something special together: a real home reflecting their authentic life. They built their home with their own (and many friends') hands, using natural, local and recycled materials as much as they could – digging clay and gathering manure for mud plaster, hauling driftwood from the beach, salvaging old doors and windows from neighbourhood renovations, and milling local lumber. .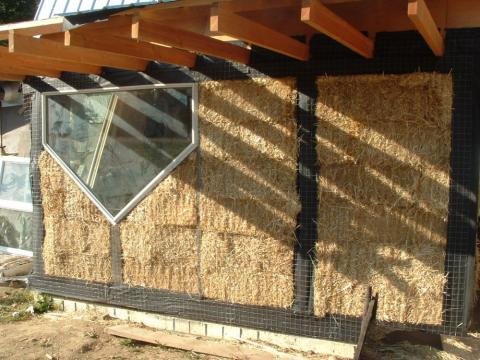 A Unique, Artistic Expression
The house embodies the creative energy of its makers.The natural plaster walls are the canvas for Tracy's collaged murals using bits of tile, mirror, shells and even her mother's fine china and silver! Shayne, a European-trained cabinet maker, contributed his gorgeous cabinetry and woodworking throughout.
Local Characters
Ruby Slipper also hosts a hand-built caravan which is the home of our co-farmer and permaculture guru, Tim, who you'll probably see in action on the farm. We are also land-partners with a neighbouring family, so learning cooperative relationships is part of the adventure.