MAKE IT REAL

@ RUBY SLIPPER RANCH
One of the things we love best about our life at Ruby Slipper Ranch is the food – the flavours, the nutrition, the freshness, and the satisfaction of providing for ourselves and knowing that our food has been produced organically and locally. If you go for the full meal deal you will eat what we eat, and drink what we drink.
We drink coffee (good strong espresso!). While we recognize that it's not part of a 100 mile diet, we have not given up this addiction, so neither must you. We make a similar exception with bread. But otherwise, we mostly eat from the farm, supplemented by other local bounty, with only occasional ingredients purchased from elsewhere – so sorry no OJ, and a minimum of grains. Pasta, rice, etc. are part of the menu only when the potatoes and squash have run out... or when we really need some variety. We also have a wide variety of dried from-the-farm teas, and local apple juice.
There are three local restaurants, the Saturday Farmers' Market (May long-weekend till Thanksgiving), and the Denman Island General Store (carrying lots of great local food, as well as non-local essentials). If you have special dietary needs we recommend shopping on Vancouver Island.
You are welcome to participate in meal preparation, from chopping veggies to helping prep the meats to sharing your favourite recipes using food you have helped harvest or process from the farm. Meal prep is a great time for learning and sharing ideas about food, food prep, and the gardens.
FULL MEAL DEAL (per person): Breakfast CA $10, Lunch CA $15, Dinner CA $20. All meals include beverages; coffee, tea, appler juice, and a glass of home made apple cider with dinner (when available). The Denmna Island General Store also carries a wide variety of beverages.
Tracy tells us about her love of cooking and good food:
Growing up I often went out to dinner with my parents. I loved trying new foods and interesting combinations of ingredients, like chicken with current jelly and rosemary sauce. My mother also liked to have the occasional dinner party. We would set the table with her fine china and would experiment with the latest imported foods making dishes like avocado and orange salads. As a traveller I have been influenced by other cultures' cooking, such as Mexican Mole or Indonesian Tempa.                            
I started by growing my own herbs, tending them on weekends. Now I am working full time towards growing and raising all my own food and as much as possible practising a 100-mile diet and even a one-mile diet.
Much has changed with this new lifestyle but my roots are evident: my mother's china now decorates the walls and the food includes the latest thing I have figured out how to grow – such as lemon grass and watermelons, along with all the great foods that grow naturally in our climate.
After sharing my passion with friends and family, I was encouraged to share my food and cooking experience with others. So now I open my home to you, and invite you to feel for yourself the joy that comes from connecting, physically and metaphorically, with the land and the food of this bountiful place we call home.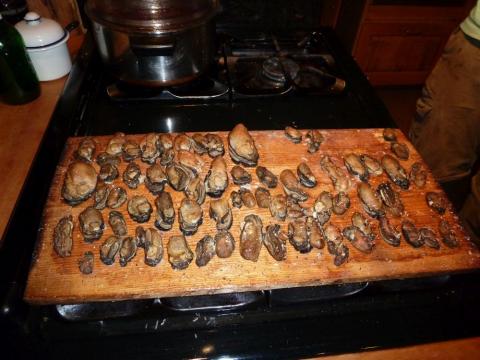 Conscious Carnivores
I like to consider myself a conscious carnivore. Making the choice to eat animals I have a relationship with has been no easy thing. However, today I still choose to eat meat and make my peace with it by actively being involved in the whole process: from raising, to slaughtering, to butchering and processing.
I take pride in the fact that by doing all this myself I am able to ensure that our animals have a good life, a humane death, and that little or none of the animal is wasted. I have started rendering fat, almost eliminating my need to consume olive or vegetable oils outside of the 100-mile diet.
Finally, I have made the decision not to commodify the products of my farm life. Instead of taking my animals to the slaughterhouse, I am opening my home to a farm stay experience in which I can share this earth-to-table experience with you.